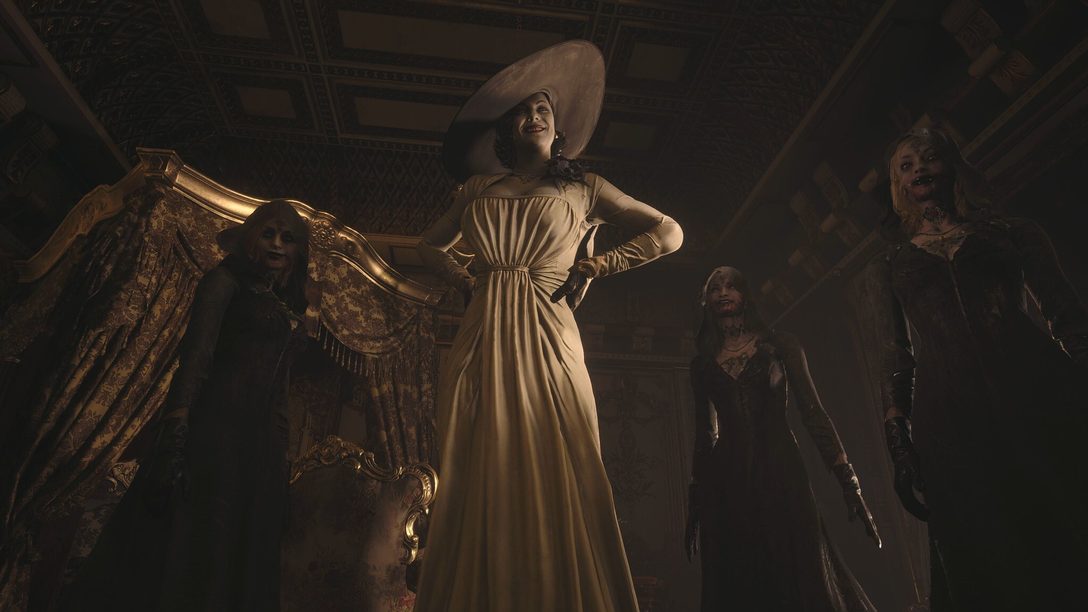 Resident Evil Village y Mass Effect: Legendary Edition debutan con fuerza.
Al igual que la propia Lady Dimitrescu, Resident Evil Village superó a su competencia en las listas de PlayStation Store de mayo, lo que le valió a la aventura Survival Horror de Capcom el primer lugar no solo en las listas de PS5 de EE. UU. y la UE, sino también en la lista europea de PS4.
Returnal, FIFA 21 y MLB The Show 21 también lo hicieron increíblemente bien en PS5, mientras que Rust Console Edition, Minecraft y Mass Effect Legendary Edition obtuvieron altas posiciones en PS4. Beat Saber y Call of Duty: Warzone continúan dominando las listas de PS VR y los Free-to-Play respectivamente.
Los listados completos, como siempre, se pueden encontrar a continuación. Haz clic en los comentarios y cuéntanos qué crees que ocurrirá con los lanzamientos de junio. Podemos pensar en cierto Lombax y cierto ex SOLDADO que competirán por el codiciado puesto # 1…
Juegos de PS5
| | | |
| --- | --- | --- |
| | US/Canada | Europa |
| 1 | Resident Evil Village | Resident Evil Village |
| 2 | Returnal | FIFA 21 |
| 3 | MLB The Show 21 | Returnal |
| 4 | Marvel's Spider-Man: Miles Morales | Subnautica: Below Zero |
| 5 | NBA 2K21 Next Generation | It Takes Two |
| 6 | Subnautica: Below Zero | Marvel's Spider-Man: Miles Morales |
| 7 | Mortal Kombat 11 | Hood: Outlaws & Legends |
| 8 | It Takes Two | Assassin's Creed Valhalla |
| 9 | FIFA 21 | Call of Duty: Black Ops Cold War |
| 10 | Hood: Outlaws & Legends | NBA 2K21 Next Generation |
| 11 | Call of Duty: Black Ops Cold War | TOM CLANCY'S RAINBOW SIX | SIEGE |
| 12 | Assassin's Creed Valhalla | Mortal Kombat 11 |
| 13 | Demon's Souls | Demon's Souls |
| 14 | TOM CLANCY'S RAINBOW SIX SIEGE | Immortals Fenyx Rising |
| 15 | OUTRIDERS | Crash Bandicoot 4: It's About Time |
| 16 | Tony Hawk's Pro Skater 1 + 2 | Tony Hawk's Pro Skater 1 + 2 |
| 17 | Madden NFL 21 | OUTRIDERS |
| 18 | Sackboy: A Big Adventure | WRC 9 FIA World Rally Championship |
| 19 | Judgment | Mortal Shell: Enhanced Edition |
| 20 | Immortals Fenyx Rising | No Man's Sky |
*Los nombres de los productos puede diferir entre regiones
*Actualizaciones no incluidas
Juegos de PS4
| | | |
| --- | --- | --- |
| | US/Canada | Europa |
| 1 | Rust Console Edition | Resident Evil Village |
| 2 | Resident Evil Village | Minecraft |
| 3 | Mass Effect Legendary Edition | Rust Console Edition |
| 4 | Grand Theft Auto V | Grand Theft Auto V |
| 5 | MLB The Show 21 | NBA 2K21 |
| 6 | NBA 2K21 | Mass Effect Legendary Edition |
| 7 | Mortal Kombat 11 | FIFA 21 |
| 8 | Biomutant | The Crew 2 |
| 9 | Call of Duty: Black Ops Cold War | Biomutant |
| 10 | Minecraft | Subnautica: Below Zero |
| 11 | Knockout City | The Forest |
| 12 | Mortal Kombat X | Call of Duty: Black Ops Cold War |
| 13 | Need for Speed Heat | Call of Duty: Modern Warfare |
| 14 | Subnautica: Below Zero | Fall Guys: Ultimate Knockout |
| 15 | UFC 4 | Mortal Kombat X |
| 16 | The Forest | Far Cry 3 Classic Edition |
| 17 | Call of Duty: Modern Warfare | The Witcher 3: Wild Hunt |
| 18 | It Takes Two | STAR WARS Jedi: Fallen Order |
| 19 | Gang Beasts | Gang Beasts |
| 20 | Red Dead Redemption 2 | It Takes Two |
*Los nombres de los productos pueden diferir entre regiones
Juegos de PS VR
| | | |
| --- | --- | --- |
| | US/Canada | Europa |
| 1 | Beat Saber | Beat Saber |
| 2 | Vader Immortal: A Star Wars VR Series | Job Simulator |
| 3 | Job Simulator | Vader Immortal: A Star Wars VR Series |
| 4 | SUPERHOT VR | SUPERHOT VR |
| 5 | Creed Rise to Glory | DOOM 3: VR Edition |
| 6 | Gun Club VR | Blood & Truth |
| 7 | Swordsman VR | Gun Club VR |
| 8 | DOOM 3: VR Edition | Creed: Rise to Glory |
| 9 | GORN | Paranormal Activity: The Lost Soul |
| 10 | Surgeon Simulator: Experience Reality | Swordsman VR |
Free-to-Play (PS5 + PS4)
| | | |
| --- | --- | --- |
| | US/Canada | Europe |
| 1 | Call of Duty: Warzone | Call of Duty: Warzone |
| 2 | Fortnite | Rocket League |
| 3 | Rocket League | Fortnite |
| 4 | Genshin Impact | Genshin Impact |
| 5 | Apex Legends | Brawlhalla |
| 6 | Destiny 2 | Apex Legends |
| 7 | Brawlhalla | Destiny 2 |
| 8 | Rec Room | World of Tanks |
| 9 | Rogue Company | Rogue Company |
| 10 | Warframe | Rec Room |