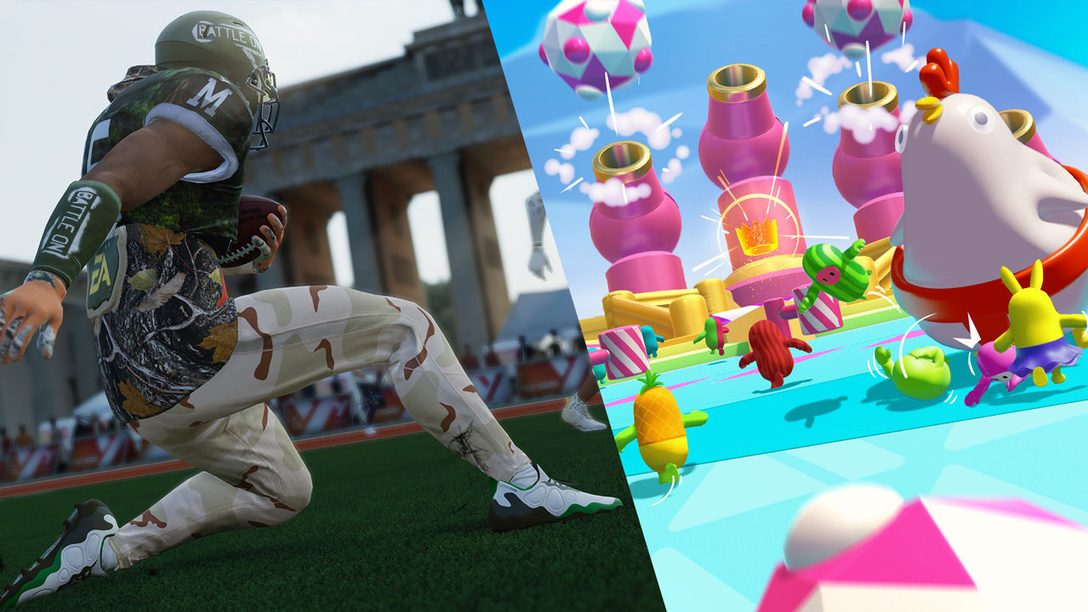 Madden, Fall Guys, Call of Duty, y Ghost of Tsushima entre lo más alto.
Septiembre ha llegado, y con él las listas de éxitos de PS Store de agosto. Vimos juegos bien asentados en PS4 como Madden NFL 21, Fall Guys: Ultimate Knockout, Call of Duty, Modern Warfare y Ghost of Tsushima en todos los territorios, mientras que Vader Immortal, Beat Saber y Job Simulator encabezaron la lista de PS VR. Mientras tanto, el recién llegado Hyper Scape saltó a la cima de la lista Free-to-Play en su mes de debut: ¡bien hecho!
Ya hemos visto grandes lanzamientos en la primera semana de septiembre… ¿cómo crees que será el listado de este mes?
Juegos de PS4
| | | |
| --- | --- | --- |
| | US / Canada | EU |
| 1 | Madden NFL 21 | Fall Guys: Ultimate Knockout |
| 2 | Call of Duty: Modern Warfare | Call of Duty: Modern Warfare |
| 3 | Ghost of Tsushima | Minecraft |
| 4 | Fall Guys: Ultimate Knockout | Ghost of Tsushima |
| 5 | UFC 4 | UFC 4 |
| 6 | PGA TOUR 2K21 | Grand Theft Auto V |
| 7 | Minecraft | ARK: Survival Evolved |
| 8 | Grand Theft Auto V | Cuphead |
| 9 | NBA 2K20 | The Witcher 3: Wild Hunt |
| 10 | Cuphead | F1 2020 |
| 11 | Marvel's Spider-Man | Red Dead Redemption 2 |
| 12 | Mortal Shell | Assassin's Creed Odyssey |
| 13 | Batman: Arkham Knight | Mortal Shell |
| 14 | Red Dead Redemption 2 | A Way Out |
| 15 | ARK: Survival Evolved | The Crew 2 |
| 16 | Madden NFL 20 | eFootball PES 2020 |
| 17 | Need for Speed Heat | TEKKEN 7 |
| 18 | Skater XL | TOM CLANCY'S RAINBOW SIX | SIEGE |
| 19 | TOM CLANCY'S RAINBOW SIX SIEGE | Assassin's Creed Origins |
| 20 | Mortal Kombat 11 | PGA TOUR 2K21 |
Juegos de PS VR
| | | |
| --- | --- | --- |
| | US / Canada | EU |
| 1 | Vader Immortal: A Star Wars VR Series | Vader Immortal: A Star Wars VR Series |
| 2 | Beat Saber | Beat Saber |
| 3 | SUPERHOT VR | SUPERHOT VR |
| 4 | Job Simulator | Job Simulator |
| 5 | GORN | GORN |
| 6 | The Walking Dead: Saints & Sinners | The Walking Dead: Saints & Sinners |
| 7 | Pistol Whip | Pistol Whip |
| 8 | Marvel's Iron Man VR | Marvel's Iron Man VR |
| 9 | The Elder Scrolls V: Skyrim VR | Blood & Truth |
| 10 | DOOM VFR | DOOM VFR |
Juegos Free-to-Play
| | | |
| --- | --- | --- |
| | US / Canada | EU |
| 1 | Hyper Scape | Hyper Scape |
| 2 | Call of Duty: Warzone | Call of Duty: Warzone |
| 3 | Fortnite | Fortnite |
| 4 | Apex Legends | Apex Legends |
| 5 | Brawlhalla | Brawlhalla |
| 6 | Destiny 2 | Destiny 2 |
| 7 | Warframe | eFootball PES 2020 LITE |
| 8 | RACING BROS | DRAGON BALL XENOVERSE 2 Lite Version |
| 9 | Fantasy Strike | Warface |
| 10 | Warface | WORLD OF WARSHIPS: LEGENDS |
Expansiones y DLC
| | | |
| --- | --- | --- |
| | US / Canada | EU |
| 1 | Fortnite – The Yellowjacket Pack | Fortnite – The Yellowjacket Pack |
| 2 | Fortnite – Derby Dynamo Challenge Pack | Fortnite – Derby Dynamo Challenge Pack |
| 3 | Fall Guys: Ultimate Knockout Fast Food Costume Pack | Fortnite – Metal Team Leader Pack |
| 4 | Fortnite – Batman Caped Crusader Pack | Fortnite – Batman Caped Crusader Pack |
| 5 | Fall Guys: Ultimate Knockout Collector's Pack | Fall Guys: Ultimate Knockout Fast Food Costume Pack |
| 6 | Fortnite – Metal Team Leader Pack | Fall Guys: Ultimate Knockout Collector's Pack |
| 7 | Call of Duty: Warzone – Starter Pack | Fortnite – Summer Legends Pack |
| 8 | Rogue Company: Starter Founder's Pack | Call of Duty: Warzone – Starter Pack |
| 9 | Fortnite – Summer Legends Pack | Rogue Company: Starter Founder's Pack |
| 10 | For Honor – Warmonger Hero | For Honor – Warmonger Hero |